By On July 11, 2011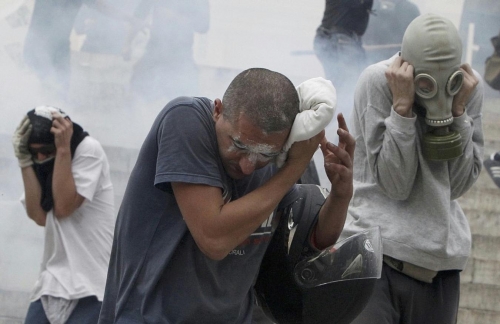 Economic collapse and police brutality bring back painful memories of years of military dictatorship and decades of financial hardship.
Syntagma Square, Monday July 11th
Like so many other words in the English language, the words trauma and crisistrace their roots back to classical Greek: τραῦμα literally means 'wound', while κρίσις means so much as a 'turning point in a disease.' Here in Athens, the turning point in the country's debt disease appears to have struck the people right at the heart of an old and festering wound.
Between economic collapse, political alienation and police brutality, the ongoing crisis is stirring a collective trauma in the modern Greek psyche. Painful memories of the country's military dictatorship of 1967-1974 were rekindled two weeks ago as riot police unleashed their violent fury upon the thousands of peaceful protesters that have been occupying the square in front of Parliament for the past 50 days.
"My dad was literally depressed for days after seeing the images of June 28 and 29," our wonderful host Amalia told me earlier. "He spent a year in prison during the military dictatorship [for his opposition to the regime]. He never really talks about it, I think he was badly traumatized. But he told me he had never seen anything like this. Even the dictatorship was never this violent against the people."
Her views have been echoed by at least half a dozen protesters I have spoken to in Athens over the past 24 hours. "The whole square looked like a nuclear disaster zone," said Lydia, a friendly lady who has been camped out on the square for the past couple of weeks. Like Achilias, a Greek journalist, she is becoming increasingly despaired by dirty police tactics, like planting drug dealers around the square in order to attract junkies and discredit the occupation. read more...